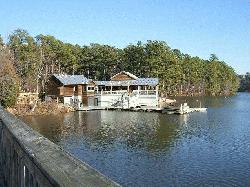 Lake Johnson
Lake Johnson Bordwalk, divides lake in half, great spot for fishing.


Lake Johnson Park and Trails System (Greenways)
4601 Avent Ferry Road
Raleigh, NC 27606
(919) 233-2121
Lila Mill

Park Description
Lake Johnson Park is composed of a 150+ acre lake and 300+ acres of land surrounding the lake. The lake/park offers boating (rentals and personal launches; non-motorized, non-trailored) picnic shelters, concessions, facility rentals, greenway trails, and a vast array of classes and recreational opportunities for the entire family. Lake Johnson has 3.5 miles of paved greenway trails and 1.9 miles of unpaved trails. Biking is Prohibited on Unpaved Trail. Lake Johnson is great for fishing; largemouth bass, shell cracker, crappie, bream, catfish, and carp. Come out and start your adventure today! Also enjoy during the summer months the waterfront concert series.
Hours of Operation: Open year-round, daily from sunrise to sunset (classes, programs, or facility rentals may lengthen hours of operation). Closed on the following Holidays: New Years, Martin Luther King, Jr. Day, Thanksgiving, and Christmas.
Fees: No entry fees for this park
Metro Region: Triangle, NC
Park Management: City

Printed Materials
Raleigh Parks Greenway Map